Memoirs of a Hasbara Advisor
By: Itai Weiss, Midwest Regional Advisor
What's so extraordinary about Hasbara Fellowships is also what's so extraordinary about Israel.
It's not so easy to explain, so let's go back a few years to the summer of 2014 when I was a Junior at the University of California Santa Cruz. I had just been accepted to the Hasbara Fellowships Israel Advocacy Training Program, and in my fervent anticipation I had come to the airport a day early. I couldn't find my flight and needless to say, I was freaking out until I called the Program Coordinator who reassuringly explained my error. Two days later as my plane landed in Israel, I remember feeling that indescribable sensation of being back home. I'm sure many of you reading can recall a similar feeling. I was back where I belong.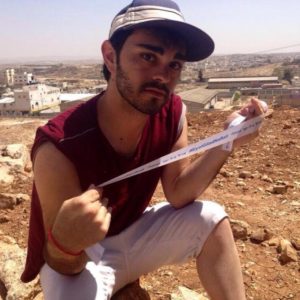 We started our program in Jerusalem; the hot sun on my face, listening to the myriad of conversations around me, and taking in all the smells of fresh falafel and pita bread I could get. That feeling of immense joy suddenly, instantly turned to profound sadness. Three boys, Naftali Fraenkel, 16, Gilad Shaer, 16, and Eyal Yifrah, 19, had been kidnapped. All we could do was worry, and post on Facebook  with "#BringBackOurBoys" to raise awareness. Our travels between the various speakers and strategic locations were filled with searching the news for any updates.
Sixteen days later, on the last day of the trip, as we were about to leave for the airport we had just gotten the news that the boys we had prayed for everyday had been found dead. Silence and tears filled the bus from Jerusalem to Ben Gurion Airport. Devastation. I said goodbye to my new and lifelong friends and extended my stay to visit family – all the while dodging rockets from Gaza and waiting for my cousins to come back safe from the war.
I don't mean to make this blog sad or depressing because I want to explain to you something very important. When the three boys were taken, the entire Israeli army searched for them. When they were murdered the entire Nation mourned for them. The people of Israel is one big, fun, chaotic, loving family, and those who fight for her survival and prosperity are some of the most incredible and good-hearted people. Almost two years now I have been the MidWest Advisor for Hasbara Fellowships. I've had the privilege of meeting, engaging, and befriending these mentchs. Many of the friends I made on my Hasbara trip now work in Israel advocacy for various organizations, and we all work together toward a shared goal. My roommate is one of my best friends from my trip in 2014. I cannot begin to describe to you all the fascinating people with different perspectives and opinions I have had the pleasure of talking and working with. All the ideas I have learned, the students who inspire me, the positive change these people are making individually and collectively, leaves me breathless. Since 2014, I have seen with my own eyes – the beauty of Zionism through all of these people. We mourn together, fight together, and all help one another through all of the ups and downs of life.
How lucky am I to have been part of this incredible journey! So yes, Hasbara Fellowships is like Israel in that it connects all sorts of people together who will gladly argue with each other while simultaneously working together to make the world around them a better place for a cause they believe in. One big, loving, meshugana family.
I will end this blog by thanking my fellow colleagues at Hasbara Fellowships. Zach, Robyn, Ariella, Carly, Yossi, Amanda, Haley, Eitan, Eli, Fay, and Rabbi Elliot. I love you all so much! Thank you.
Yalla! On to the next adventure…